It can be tough to tell when the holidays are near (or here) in San Diego, what with the sun shining, a prevalence of flip-flops, and the need for sunscreen year round.
However, warm weather and blue skies don't stop San Diegans from celebrating the holidays in a variety of different ways.
At Bop Design, we polled our San Diego web design team to hear their favorite places to visit during the holidays. See what spots these native and non-native San Diegans think represent the spirit of Christmas and the holidays in America's Finest City.

Hotel Del Coronado. Image credit: Flickr
Hotel del Coronado
I love going to the Hotel del Coronado during Christmas. I don't do much decorating for the holidays, so it's nice to go to the lobby bar and enjoy a warm beverage and admire the beautiful Christmas tree. The whole place is decked out so it's fun to wander around and hit the ice skating rink they create for the holidays – Kara, Creative Principal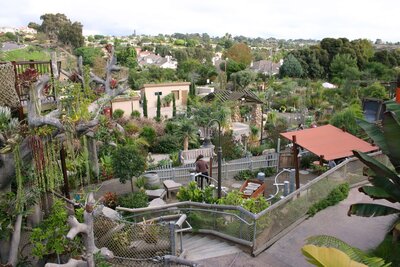 San Diego Botanical Gardens. Image credit: Wikipedia.org
San Diego Botanic Garden
The San Diego Botanic Garden, located in Encinitas, is the perfect place to get into the holiday spirit. We take our kids there to wander through the holiday lights, listen to live music, sip hot chocolate, meet Santa, roast marshmallows beside the fire, and take a horse-drawn wagon ride. We like that it is a small and intimate venue without a big crowd. – Jessie, SEO Manager

San Diego Zoo at Night. Image credit: Jeremy Durant
Jungle Bells at the San Diego Zoo
Every year, during the holidays, the San Diego Zoo celebrates with Jungle Bells. They have cool holiday decorations, special animal encounters, and holiday shows throughout the park. A special trolley goes around the park that is decked out with lights and tinsel. The zoo is open later during Jungle Bells too, so you can see the animals when most of them are active – at night. I enjoy going to see the animals that are out and about, while also enjoying all the festive decorations and lights, as well as a warm beverage. – Jeremy, Business Principal
Historic Julian, California
Julian is a quaint little town that never fails to get me in the holiday spirit. During a weekend in December, before the holidays get too busy, my husband and I set aside some time to drive out to Cuyamaca Peak for a hike to see all the lovely colors of the trees and then we continue on into the town of Julian for lunch. We like to grab some grub at Bailey BBQ and the famous apple pie and cider from the Julian Pie Company. – Danielle, Graphic Designer

Christmas Card Lane. Image credit: Wikipedia
Christmas Card Lane
Every year beginning the weekend after Thanksgiving, a neighborhood in Rancho Penasquitos is transformed into Christmas Card Lane. Most of the homes (like 90%) for a 5-block radius decorate their yards with painted boards of their favorite fictional characters celebrating the holidays. Many different religions are represented and on the weekends you can take a hayride and buy hot chocolate and goodies from enterprising youths of the neighborhood. I believe the best place to begin the circuit is at Black Mountain Road and Oviedo.
Christmas Card Lane to me is the true beginning of the Holiday Season! As a kid, my family from all over the County would come to our house and we would pile in the minivan and cruise around Christmas Card Lane. We each had our favorite, from Peter Pan to Snoopy, but mine is still Cookie Monster in a helicopter getting ready to take off from one roof!
Pro tip: If you drive rather than walk, please turn off your headlights! – Gwen, SEO Manager

San Diego Bay Parade of Lights. Image credit: Wikimedia Commons
San Diego Bay Parade of Lights
Since I live on the water – literally – the San Diego Bay Parade of Lights brings all of my favorite things together: boats, lights, and holiday spirit! Every year, nautically-inclined San Diegans decorate their boats with Christmas lights, trees, sleds, waving Santas, and even menorahs, and parade through San Diego Bay. This amazing event takes place on two days in December: the 13th and the 20th. You don't want to miss this! – John Callery, Web Developer

Little Italy, San Diego. Image credit: Rachel Cunningham
Little Italy: Tree Lighting & Christmas Village
During the Christmas season, the neighborhood of Little Italy (where our San Diego office is located) decorates with lights, tinsel, and lots of wreaths. Every year, there is a Tree Lighting ceremony and Christmas Village holiday shopping event. It's a great event to go to where you can be outside, see them light the giant holiday tree, and pick up gifts from local vendors for friends and family. It's a nice bonus that I have easy parking nearby too. – Emily, Technical Project Manager

December Nights in Balboa Park. Image credit: Flickr
December Nights in Balboa Park
Balboa Park is a great place to visit, whether you live here or are just visiting. It provides breathtaking views of the city and surrounding area. Every Christmas I look forward to December Nights in the Park. We usually meet up with friends or family and walk around the park to enjoy the cool air, the holiday carols in the Organ Pavilion, the tasty treats, the lights, and the local vendors. It's a great event for families since there are also rides and games. It can get crowded and parking is a little nutty, but nothing beats being outside in the park listening to carols. – Rachel, Content Marketing Manager

San Diego. Image credit: Wikipedia
The Beach
Nothing makes me appreciate San Diego more than going for a walk on the beach during the holiday months of November, December and January – because everywhere else in the country people are freezing their behinds off! Also, if you time your visit to the beach just right, you can watch boats sailing by in the holiday boat parades or you can see the lovely San Diego skyline all lit up. – Kara, Creative Principal

Holiday Wonderland at Petco Park. Image credit: Flickr
Holiday Wonderland at Petco Park
During the holidays, Petco Park transforms into a Holiday Wonderland for 12 special nights in December. Petco Park is smack downtown and has become an icon of the city. With the Padres in the off-season, the park is turned into a wonderland with holiday light displays, has train rides on the Polar Express, pictures with Santa, and a giant tree. It's a fun event to go to whether you have kids or not as you are transported into a holiday world in the middle of downtown San Diego. – Rachel, Content Marketing Manager
There are so many places and events happening in San Diego from Thanksgiving to New Years. This is only a sampling of our team's favorite spots.
What's your favorite spot or event to attend during the holiday and Christmas season?