About
B2B Agency: Marketing & Branding Services
About Our B2B Agency
Starting in 2008 as a San Diego and Orange County website design firm, we have grown to be much more than a Southern CA marketing agency. While still staying boutique and selective with the projects we take on, Bop Design now helps B2B companies all over the world in establishing a brand identity, creating an engaging website design and utilizing content marketing to drive inbound marketing leads. When you work with Bop Design, you'll experience the success that comes from employing the most awarded, recognized, boutique B2B agency in the world.
Services To Attract The Right Clients
Our typical client engagement is a B2B company that needs to re-brand, with the website design and copy being the centerpiece of the re-branding and lead generation effort. Our B2B agency can help develop a new brand identity, tagline creation, competitive analysis, copywriting, logo design, print design and web design. Once the new web design is created and launched, we help clients increase web traffic via content marketing, search engine optimization and digital advertising. Our focus is on B2B firms that want an external team of B2B marketing specialists to complement their internal team–helping enhance their brand positioning, build awareness and increase market share.
Tips to Get the Most from Your B2B Marketing Partner
Your company has recently hired a B2B marketing agency to help build brand awareness, redesign your website, generate leads or produce thought leadership content. This can be an exciting time since this marketing agency can help your company identify new business development opportunities, close new deals, and generate new revenue.
In terms of maximizing the value of this B2B marketing agency partnership, the following are some best practices.
Trust
Your company hired an agency because they are the experts on which B2B marketing tactics work and which practices may not be optimal. You hired the agency to take the lead and, because they do this all of the time, there needs to be an element of trust. There does not need to be blind trust, but there needs to be some faith that the B2B marketing agency knows what they are doing. Constant questioning and skepticism tend to impede the process and slow down results.
Define Success
Before starting a project with a B2B marketing partner, it is critical to define what success is and ensure that the agency you have hired is confident that they can deliver on your expectations. Success should be formally defined before a contract is signed. You should not ask for a guarantee of success, but at least make sure that your company and the hired agency are on the same page. Is success tied to the number of leads each month, closed quarterly business, increased traffic, securing a specific client, or something else? Success needs to be formally stated and written down.
Why consider hiring an outside B2B marketing agency?
2 Things You Know Best
Trust is important but there are 2 things you will know better than the agency you hire: your company's ideal client profile and your company's sales process. Make sure to aggressively communicate both items as much as possible—not only at the beginning but through the entire partnership. This proactive communication will ensure that tactics employed by the agency will result in more engagement with your ideal prospective client AND give you the tools in the sales process to nurture this prospect from a general inquiry to a qualified lead to a committed relationship.
Agency Takes The Lead
Let the marketing agency do their job and take the lead. You don't want a B2B marketing agency to be order takers. Rather, you want them to be proactively thinking of ways to generate more business for your company. Make sure you allow them to drive the lead generation strategy and be creative on ways to build brand awareness. In the agency interview process, if you find a prospective agency to be passive and not aggressive, move on to the next option.
Reporting
If your company and the agency have defined success, it better be measured monthly! In the agency interview process, directly ask about an agency's reporting and optimization process. Request that there is a monthly report and activity call so that you can determine that you are getting the most from your relationship. Regular reporting will track results and hopefully showcase success.
Hiring the Right B2B Marketing Agency Is Crucial
Selection of the right agency is critical. If you don't select the right agency the first time, it can postpone success for years. However, just as important as the selection of an agency is managing the agency effectively to maximize your company's investment. If you adhere to the philosophy above, you will be on the right track.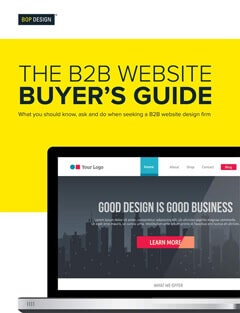 The B2B Website Buyer's Guide
Download the B2B Website Buyer's Guide to get the tools needed to research, qualify and select the optimal web design agency for your firm's needs. Learn the questions you need to ask to find the right agency for your website project.
Various B2B Industries
B2B is not an industry–it's a business sector comprising many different industries. Each industry is very different but with all B2B marketing, we know it's all about lead generation. We want to create a website design and brand messaging that serves as an effective client gateway–helping your sales team start conversations with the right clients. Check out what we have done in each industry.