Website Design
B2B Website Design Services
Effective web design is crucial to any B2B marketing strategy. A compelling B2B website design and disciplined content marketing plan help nurture a lead from a general inquiry to a specific opportunity to a committed relationship. Not only does it allow a visitor to navigate your site intuitively and quickly—finding information in the least number of clicks—it encourages visitors to convert into valuable leads. Find out what Bop Design can do for your company, contact us to schedule a B2B web design consultation today.
What Is B2B Web Design?
Effective B2B web design is a polished, custom digital platform that integrates your company's branding and messaging to appeal to your ideal buyer. Business-to-business (or B2B) website design varies from B2C in that it often must appeal to a variety of decision-makers across levels of leadership and vastly different needs.
What You Get with Our B2B Website Designs
Websites your customers want to browse
The B2B web design team focuses on building websites that streamline content and feature efficient navigation—the most content with the least amount of clicks—so your brand message gets across quickly and clearly. The website content needs to be timely and relevant—compelling content that keeps a visitor on your site.
B2B web designs that nurture leads
An effective B2B web design communicates your brand message and entices your visitor to complete a desired action. There needs to be no mystery on why a prospective client should hire your firm over your competition. Our B2B web design team creates clear, compelling, and well-placed calls-to-action to turn website visitors into engaged prospects.
Websites that grow with your business
Our design team ensures your B2B website design is easily scalable so that you can integrate more functionality and content down the road with no issues. For instance, you may add new services, personnel or expand locations. The WordPress CMS makes it simple for a non-technical person to make content changes to the website. Ease of edits on the backend is critical for the future success of your B2B website design.
B2B websites that drive traffic
Your website has little value if no one can find it. Our B2B web design, content strategy and development is executed with the latest SEO best practices in mind so you're ranking more prominently for target search terms. We identify geo-targeted and industry-specific keyword phrases that help you rank more quickly. Once the website is launched, we drive not only organic traffic but paid, social, etc. We want your B2B website design to not only be beautiful but to also be a gateway to new clients.
B2B website design for speed
Website load time is critical, not only for usability but from a SEO standpoint. At Bop Design, we understand that the cornerstone of an effective B2B website design is page speed. We will develop a website that performs optimally so that visitors stay on the website longer and visit more pages.
A team of experts
A well-planned website requires a team of B2B marketing professionals— brand strategist, web designer, web developer, content strategist, copywriter and SEO expert—in order to reach its full potential. Bop Design employs a team of specialists on all B2B web design projects, creating an effective brand platform to attract and engage ideal prospective clients. Our team has worked on a range of B2B website designs and marketing strategies.
TV Ads Say Websites Are Cheap and Easy, So Why Are Custom B2B Websites Expensive?
You've seen the ads, putting together a website is as easy as 1…2…3! All you need to do is add your logo, change the colors, and put in some copy, right?
It's true that certain website builders, like Wix or Squarespace, enable you to build a website fairly quickly. However, building a custom B2B website design is not so quick (or cheap). Here are a few reasons why those websites advertised on TV are so inexpensive and relatively quick to launch:
1. They Are Customizable Templates, Not Custom Builds
These website building services are template-based. You can choose a template and do various levels of customization, but it's not a custom B2B website that is designed and built from scratch to meet your needs.
Learn how to determine your B2B website objectives. 
2. The Functionality Is Already Set, You Get What You Get
Being that these services make money on volume rather than individual pricing, they are fairly cheap to build. However, along with the minimal cost is minimal functionality. If you want to have custom animation or change how the CTAs function on your website, you are out of luck with a template. You get what you get with the existing functionality.
If you want to have certain features and functionality, your best bet is to work with a B2B website designer and developer who won't "kinda make the website work," but who will listen to your needs and make the website function or perform accordingly.
3. You Do All the Heavy Lifting
Just as you can build a house cheap if you do all the construction, you can build a website cheaply if you do all the heavy lifting. That means you have to choose all the images, write all the copy, upload all your resources, position everything on the right pages, implement all the search engine optimization, and more. If want to do all the work yourself, a template website may work for you. However, if you'd like to maintain control without doing all the heavy lifting, you are likely in the market for a custom website design and build.
Why does great web design take so long? 
4. You Get What You Pay For, Additional Services Are Additional
The great part, and major drawback, of a template website is that you often get what you pay for, and only what you pay for. It's important to read up on what is included in the price of the build and what will be extra. Is customer support included or billed at a monthly or hourly fee? Do you need some minor development help? That often costs more and you will be billed every time you ask for revisions. Any additional features or plugins will always cost extra and may be billed a recurring rate. It's rare that it's a one-time fee. While you can keep costs to a minimum if you don't require any assistance, the costs can start to rack up if you want certain levels of customization for your website.
5. You Have Access to Customer Service, Not a Dedicated Team
Many of the template website services advertise that they have 24/7 support –which sounds great. However, it often means that the support is offshored to ensure support is always available, even at midnight in Missouri. It also means that you are emailing or calling into a support center with a rotating staff. If you call or email twice in the same day, chances are you won't even talk to the same person. They will likely have a ticketing system, but those are only as good as the people entering the notes.
Conversely, custom-built B2B websites are crafted by a dedicated team of 4 – 5 people. The advantage here is that you often only have 2 -3 points of contact and they become familiar with not only your business but with you, personally. There is a level of continuity and responsibility that the call centers just can't provide.
6. The Ideal Market Is Small, Mom & Pop Shops
If you are that template website builder's ideal customer, then you should absolutely work with them. They will offer you just the right amount of value for your budget. These types of services are often best for one-person consulting firms and mom and pop shops. Many of your clients will understand that you are a small-scale operation and won't be put off by a simple, straightforward website that isn't 100% customized.
Perform a 5-minute B2B website audit.
B2B Custom Websites: Totally Worth It If…
B2B custom websites are totally worth the investment if:
You are looking to create a polished, professional image
You need to build credibility with prospects, partners, or potential investors
You are looking to establish your authority in your industry
You are looking to build a living, breathing resource center
You are interested in generating qualified leads for your business
There is a slew of other reasons to build a custom B2B website, but these are the main reasons why businesses consider it. For websites, just as in life in general, you get what you pay for. If you pay $50 – $100 for a website, it will look like an inexpensive website. If you invest in a custom web design, you will get a polished digital asset that accurately reflects your company as forward-thinking and established.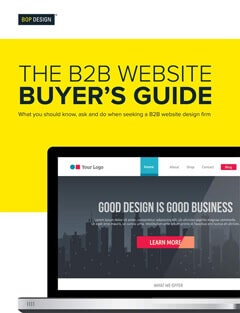 The B2B Website Buyer's Guide
Download the B2B Website Buyer's Guide to get the tools needed to research, qualify and select the optimal web design agency for your firm's needs. Learn the questions you need to ask to find the right agency for your website project.
The MEGA Guide to B2B Web Design Best Practices
Whether you are a seasoned B2B marketer looking to make sure you have all your bases covered or a newbie considering a potential website redesign – this is your guide for a successful web design.
Industries We Serve
B2B is a business sector comprised of many different industries. We understand the B2B sales and marketing process and what makes it different—multiple decision makers, longer sales cycle, longer-term partnership, higher-priced sale, etc. We focus solely on the B2B industry—helping companies attract, differentiate and convert. We have extensive experience creating professional B2B web designs for the following industries:
7 B2B Website Design Best Practices
Web design is such an exciting industry to be a part of, especially when you get to see innovative, lovely designs. While there are a vast amount of beautiful, functional websites, there are also a ton of ugly, overdone, useless websites.
Based on our experience, we've compiled a list of best web design practices to ensure web designers are creating functional, useful websites.
1. Focus on Your Target Audience
It can be easy to get caught up in the concept of a website and forget about the end-user. A successful website isn't just a lovely visual piece, it's a portal for attracting your target audience and giving them the information they need to decide if they want to become a new client.
Before we start a new B2B web design, we get the low-down on the target audience.
Do they know the company's brand or services?
Are there several different target markets?
What makes them the same or different?
What do they care about?
A common mistake we see designers make is focusing on the target audience at the beginning and then forgetting about them at the end of the design phase. Always keep your target audience front and center, even when making changes to the design, layout, and images.
2. Keep Branding Consistent
Website design that lacks consistent branding is stressful and confusing. Everyone has a friend or family member who is unpredictable. You never know what they are going to say/do/wear and they are stressful to be around. Unfortunately, there are quite a few brand websites out there that are like this unpredictable person. It's difficult to tell what their brand colors are, what their logo looks like, how they are positioning themselves, and what their value proposition is all about.
A best practice in B2B website design is to keep the branding consistent throughout the entire site. Only use the predetermined brand colors, logos, and messaging on every single page of the website. This applies to images, iconography, typography, and videos as well. A brand's story should be evident and supported in the design.
3. Simplify The Layout
Flashy, complicated websites typically deliver a poor experience and end up being visually noisy. Effective websites often have simplified layouts that are easy to navigate and enable each design element to shine. As experienced B2B web designers, we understand that a website typically has to accomplish a lot and host a great deal of information – which can be done in a clean, focused and ultimately simplified manner. If too many design elements are competing on a website, none of them will do their job (engage the user).
4. Create Strong CTAs
The main goal of a website is to attract a target market. The next goal may be to educate the visitor. The final goal should always be to entice the visitor to complete an action, whether it is to sign up for a newsletter, download a case study, or set up a consultation. Strong calls-to-action are essential to converting website visitors into leads or new clients.
Strong CTAs should be part of the initial B2B web design, not an afterthought. They should be placed in an appropriate place in the layout that makes sense for the target market. For example, a "Learn More" button may be placed higher in the design, while a "Contact Us" form may be placed towards the bottom of the design when the visitor is more educated about a brand or company.
5. Use High-Quality Images or Videos
Smartphones now have 16, 20, or even 21 mega-pixel cameras in them. Remember, a phone's main function is not necessarily as a camera. For this very reason, it's imperative that all images, videos, and photos included in a web design are high quality. A fuzzy image or out-of-focus picture negatively impacts the credibility of a brand.
If your brand or firm isn't able to invest in custom photography at this time, stock photography is actually a great option these days.
Great web designers balance clear, high-quality images with sizes that don't slow down the website load time.
6. Enhance the User Experience
At its very core, B2B web design must be functional. This means that it should create a good user experience. Effective web design takes it a step further and enhances the user experience by creating an intuitive layout, telling a compelling story, and serving up what the user is looking for when they want to see it. For this very reason, seasoned web designers are taking an interest in the user experience (UX) to ensure their designs are anticipating the needs of the target market.
When looking to enhance the user experience, it's important for a designer to put themselves in the user's shoes. Also, it's essential that the web designer considers how every element of the design builds value for the user and meets a need.
7. Follow SEO Best Practices
If a website is gorgeous but no one sees it, is it effective? The answer is no. Strong websites attract and convert visitors. For this very reason, B2C and B2B web design must follow SEO best practices to ensure the website is showing up for the target market.
While the list of SEO best practices for web design can be fairly long, a few best practices include:
Sizing pictures for faster load times
Internal linking to keep users engaged & on the site
Properly labeling images for search engines and users
At the End of the Day
At the end of the day, B2B web design can be innovative, interesting, and beautiful – but it also needs to be functional. Successful websites don't need to have boring designs, but they do have to marry smart design with a great user experience.
B2B Web Design Frequently Asked Questions
How long does a B2B website design project take?
The length of time needed to design and launch a new B2B website depends on the scope of the project. The scope is defined by the number of pages, design elements, functionality, etc. For an average B2B web design with 20 standard pages, it takes about 16 – 20 weeks to design and launch the website from start to finish.
How much does a B2B web design cost?
Again, this depends on the scope of the project. A one-page website with limited design and content will be less expensive than a 50-page website with integrated forms, an SEO strategy, and custom design and development. At Bop Design, our typical B2B web design starts at $25,000 and averages about $45,000.
Should our company work with a designer, developer, or a web design agency?
Who you work with will depend on your needs, budget, the scope of the project, and your objectives. If you are looking for a critical digital marketing platform to generate leads, you should invest in a partnership with a web design agency. If you have an accomplished, extensive design team familiar with web design, you may just need the help of a developer. If you have a limited budget or are a small company, your best bet may be to work with a freelance designer.
What happens during the B2B website project?
We get this question a lot and it's a great question, but it doesn't have a simple answer. The truth is that a lot happens behind the scenes on a B2B web design project. What you can ask to see is a website project schedule sample. The schedule will show all the steps involved in the project and when you can expect to see activity/designs to review/development to review.
Is WordPress a good CMS?
Yes. WordPress is one of the most popular content management systems and is the most widely used CMS. For this reason, WordPress has an extensive community for support, plugins, and is often the easiest to update for non-developers. At Bop Design, we only build B2B websites that have a WordPress CMS.
Who needs to be involved in our B2B web design build?
We recommend having the fewest number of people involved in the project as possible since it streamlines the process and ensures cohesiveness. You'll need a point person to work closely with the B2B design agency, a person who can review and provide feedback (for most companies this can be a few stakeholders), and a person who is authorized to provide approvals.
What do I need to pull together before I start a B2B website project redesign?
Before starting a B2B web design project, it's essential to have your messaging, main value proposition, core service/product offerings, and buy-in from your team for the project. If you don't have any of these items, let your web design partner know so they can guide you through the process. Other things that are great to have are any copy input, custom images (if available), logos, and other assets.
How do I determine the right hosting provider for our website?
We recommend discussing web hosting options with your web design partner. They often have experience working with a range of hosting providers and can provide suggestions based on your budget, bandwidth needs, and website functionality.
We know this isn't an exhaustive list of questions, but we believe these are the main questions we hear from potential clients. Don't see your question here? Feel free to contact us with your question, or check out any of our blog articles listed below:
Custom B2B Web Design vs. Template Websites (Pros vs. Cons)
Questions to Ask Before Designing a New B2B Website
How to Determine Your B2B Website Objectives
Important Decisions You Must Make While Redesigning a B2B Website
What Makes a Web Design Company the Right Fit?
5 Important Questions to Ask Before Starting Your B2B Web Design Project
A Complete B2B Website Checklist
Should You Host Your Website Internally? 
Pulling Together the Right Internal Team to Develop Website Content
Related Services
Schedule Your Consultation Today
Ready to discuss acquiring more clients? Do you want your website to be a lead generation tool? Schedule a 30-minute discovery call, so we can learn more about each other and determine if we are a good fit. This is a no obligation consultation. We look forward to hearing from you.