Social Media Day was a national event celebrated on June 30th, 2016. The event was started in 2010 by Mashable as a way to recognize the impact of social media on marketing and communications.
At Bop Design, we celebrated by attending Social Media Day in San Diego – a one-day conference to discuss all things social media, including tips from experts, industry trends, and effective strategies for incorporating social media into a marketing plan.
We've whittled down all the information gathered at Social Media Day and condensed it into 3 social media tips for B2B marketing professionals.
1. Keep an Active Presence on Social Media
This may seem like a no-brainer for B2C firms speaking directly to personal consumers, but it's often tougher to get support for creating an active social presence for firms in B2B industries. Social media platforms like Facebook, Twitter, LinkedIn and YouTube continue to be excellent sources for promoting B2B marketing content and connecting with followers, potential clients, and existing customers.
It's important to not only build a professional presence on select social media channels but to keep an active presence with continuous posts, responses, and updates. For B2B marketing purposes, it's a good idea to have a presence on LinkedIn at the very minimum. In addition to LinkedIn, choose 1 – 2 other relevant networks to maintain an active presence. Don't immediately branch out into all social platforms since that will be tougher to maintain an active presence on.
Once you have established your presence, keep it active by sharing relevant posts from industry publications, your supplies, and content that you create.
2. Start Running Paid Ads
Organic reach for businesses on social media is starting to approach 0%. In fact, during Social Media Day, Mike Stelzner of Social Media Examiner stated that Facebook organic reach for businesses is essentially over. The solution is to supplement organic posts with paid advertisements on social media networks.
This is good news for B2B marketing as social media ads can be highly targeted (down to income level and job title on some networks) and currently are affordable, even for smaller businesses.
There are two types of advertisements for B2B firms on social media: sponsored updates and ads.
Sponsored updates, also called promoted posts, enable businesses to boost the reach of content already published on Facebook, Twitter, or LinkedIn. In the example below, to pay to boost the reach of the blog, one would simply need to click on the "Boost Post" button and enter the information for your target audience, budget, and timeframe.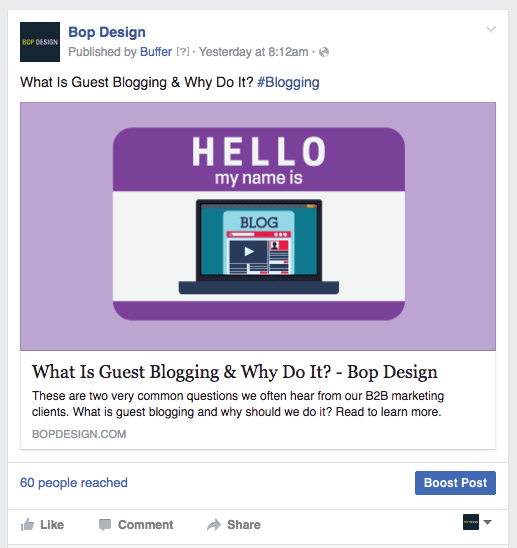 Sponsored updates are a great place to start with advertising on social media.
The second option is to create an ad that you can customize the text, landing page, and imagery associated with it. Many social networks have advanced advertising platforms, including LinkedIn. Below is an example of ads that can be created on LinkedIn to target a specific audience.
When you get started with creating new ads, make sure they look professional, consistent with your B2B marketing efforts, and always A/B test. What you think will work may or may not.
3. Look Into Live Video
Live, streaming video is all the rage and it's not going away. Live video has reached a strong level of adoption for consumers (think Snapchat, Facebook Live, Periscope, etc.). There are definitely applications for B2B marketing strategies as well. Did you know that Facebook prioritizes live video over anything else in the newsfeed? This means that even if your page followers don't see your regular posts, they will see your Facebook Live videos in their feeds.
There are rumors that YouTube is also going to get started with YouTube live as well. Whatever platform works best for your firm, it's time to start thinking about a video strategy.
At Bop Design, we started experimenting with live video via Facebook Live. We recently had a new website launch for our agency but weren't able to invite everyone to our San Diego headquarters. We didn't want anyone to miss out so we live streamed the event.
You can see from the views that people did watch the event live (a modest amount – we know!) and have watched the saved recordings as well. An exciting event like a launch party or an announcement is a great idea for getting started with video.
Conclusion
There you have it – 3 new social media tips for marketing your B2B business. Have questions about anything we covered? Let us know in the comments below.