The benefits of a brand guide may not be obvious at first. Although you may be very familiar with your company's operations, mission, values, logo, website, templates, and brochures, is everyone in your organization on the same page? What about any new hires? Contractors outside of your organization? How about the B2B agency or freelancer you hire down the road to create a new brochure? Having a readily accessible brand guide will save you time and ultimately help streamline your marketing efforts.
A well-crafted B2B brand guide is integral to protecting your organization's brand consistency over time. Whether you have staff turnover or end up outsourcing a specific design project, your brand guide will help keep everyone moving in the right direction.
So, what essentials should be included in your B2B brand guide?

1. Your Brand Statement:
Your Brand Statement is a clear reflection of your company and so provides an excellent introduction to your guide. A successful statement should be unique, descriptive, and concise. The primary goal is to clarify what you do and how your organization should be perceived. It may be useful to include brief sections detailing "who we serve", "our values" and "how we are different."
2. Color Scheme
Keeping a consistent color palette cannot be overstated. All blues were not created equal. Having a master list that includes your primary Pantone, CMYK, RGB and HEX values will prove invaluable. Subsequent pages in the B2B brand guide can also clarify a secondary or tertiary palette, accent colors, and tints.
3. Fonts
Again, standardization is key. Your brand guide should answer which font families are to be consistently used across print and web media. How should the fonts and font weights (bold, regular, light etc.) be applied to headings, subheadings, and body copy? What standard font alternative can be used when the primary font is not available?
4. Logo usage
Your logo was likely created with only a few specific variations. This is a good thing. The graphic designer has carefully considered how your logo will function in various sizes and on various backgrounds, both with and without a tagline or icon.
It's important to show these approved final versions of the logo in the brand guide to clearly represent your B2B branding. Creating and using additional inconsistent variations is to be avoided at all costs, as multiple iterations can easily muddy your logo's recognition.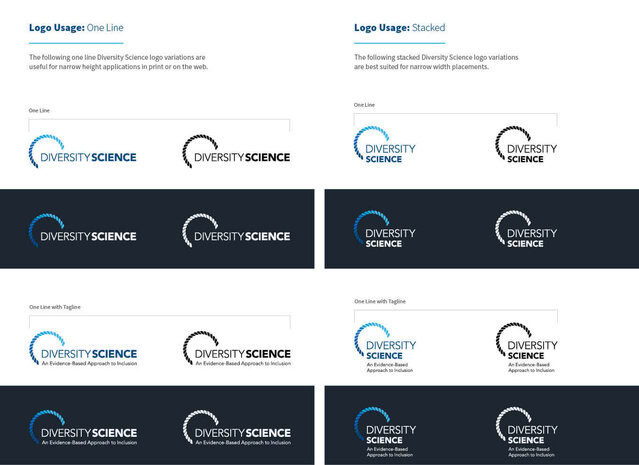 5. Custom graphics or icons
Does your brand include custom icons, photography, specific curves, angles, or photo treatments? Such universal brand elements should certainly be included in your guide.
6. Implementation
Once all your brand elements have been specified, it's time to showcase how they look across a variety of real-world applications. Your guide should show how your brand has been (or can be) applied across a variety of media. This can include your website design, online advertising, email marketing, exhibit displays, brochures, reports, business cards, social media profiles etc.
Additional Guide Considerations:
Emphasizing Visuals
Ideally, your brand guide should not look or read like a textbook. Instead, concise specifications should be supported by visual examples whenever possible. A well-designed guide will not only prove useful to other designers but will be accessible to employees across your organization.
Keeping a Consistent Tone
Just as with the visual elements, it is useful to standardize the tone of voice for your content. Is your goal to appear… Serious & Professional? Direct? Technical? Informal & Approachable? The appropriate tone should be applied consistently. Providing examples in your guide can help keep employees on track when they create client facing materials. This is also true for any social media accounts. Providing tips or strategies for these social platforms can help prevent detrimental off-brand posts.
Providing Room to Grow
By definition a brand guide will be prescriptive, showing what to do in order to keep your brand looking and sounding cohesive. However, a successful B2B brand standardization should not feel stifling. The framework should allow for brand recognition while leaving room for creativity, innovation, and growth over time. Your brand will inevitably evolve with your business. But as these changes occur, make sure to look at them strategically and update your brand guide accordingly.
Brand Consistency Builds Trust
A thoughtful B2B brand strategy will position your company to attract new leads. In adhering to your brand guidelines you will provide a consistent experience for your employees and clients alike. This consistency over time builds trust, which in turn will help convert new leads into long-term business relationships.
Ready to update your B2B brand and web design? Contact Bop Design for a personalized B2B marketing and branding consultation.