Website Design
B2B Website Design Services
Featured B2B Website Projects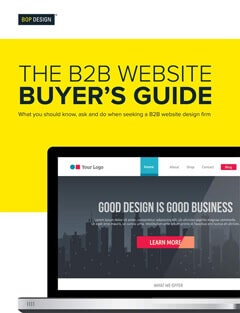 The B2B Website Buyer's Guide
Download the B2B Website Buyer's Guide to get the tools needed to research, qualify and select the optimal web design agency for your firm's needs. Learn the questions you need to ask to find the right agency for your website project.
The MEGA Guide to B2B Web Design Best Practices
Whether you are a seasoned B2B marketer looking to make sure you have all your bases covered or a newbie considering a potential website redesign – this is your guide for a successful web design.
Industries We Serve
B2B is a business sector comprised of many different industries. We understand the B2B sales and marketing process and what makes it different—multiple decision makers, longer sales cycle, longer-term partnership, higher-priced sale, etc. We focus solely on the B2B industry—helping companies attract, differentiate and convert. We have extensive experience creating professional B2B web designs for the following industries:
B2B Web Design Frequently Asked Questions